4 victims, 2 unknown, between 1983 and 1991.
23 year old Heidi Villarreal Fye was a cocktail waitress, last seen on October 10th 1983. Her remains were found after a dog carried her skull to a nearby house on April 4th 1984. She had vanished six months earlier after walking from the home of her parents to use the phone at a nearby convenience store. The medical examiner noted Fye had broken ribs and had been beaten with a club. She may have died from blunt force trauma to her head.
February 2ed 1986 four boys riding dirt bikes smelled a foul odor. They located the skeletal remains of a still unidentified female and called the police. Dubbed "Jane Doe" she had died six weeks to six months before being found, she had been shot in the back. She perhaps had been shot to death by a 22 caliber weapon. Part of a bullet was found with the cadaver at the medical examiner's office. (Ruined as evidence) The autopsy also revealed healed fractures of the ribs. She is described as being about 25 years old, being between 5 feet 5 inches to 5 feet 8 inches tall. Weighing about 140 to 160 pounds, with light reddish brown shoulder length hair and had a distinct gap between her upper front teeth. She was about fifty yards from where Fye had been found. While investigating the scene the police found yet another body the same day.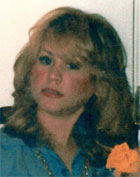 A good image of Heidi Fye, it clearly shows she was a brunette with lighter color treated hair.